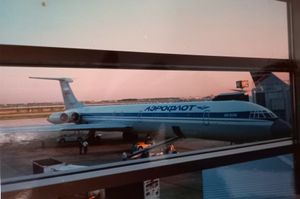 On June 15, 1996, an Aeroflot flight departed from Chicago's O'Hare International Airport, bound for Shannon, Ireland. Aboard it were myself, my wife, and my two step-daughters, then ages 12 and 8. On the morning of June 16, we caught a connecting flight that landed us in Saint Petersburg, the three ladies' birthplace, which had only recently reverted to its original name.
We had a plan. I'd been working long hours at several companies for 5  years without a vacation. I was burnt out, and I would take a sabbatical. My wife had a job waiting for her, one which would return her to her beloved journalist work. Our expenses would be low, as we would live in her (still) state-owned and assigned apartment. We would supplement her salary with money we had saved for a down payment on a house (the American Thing With a 30-Year Mortgage - which we had decided to blow off.) We would send the girls to school so that the older one would catch up on math and science, which lagged in American schools, and the younger one would keep her native Russian language, which she was losing. We would stay for one year, and return to the U.S.
It's now 25 years later, and the poet Burns was right about best laid plans.
A chilly reception - literally
The weather in Chicago, where I had been working as a software engineer, had been over 100 degrees Fahrenheit for some time. We were dressed for that. When we got into Saint Petersburg, it was about 35. Those were the days of near unlimited airline baggage. We had checked in several big "dish pack" moving boxes full of clothing. It was marked "Fragile" - which it wasn't. Someone at Aeroflot decided that "Fragile" sounded like Japanese, and so sent our baggage, with all our warm clothing, to Tokyo. Yes, really. I stepped out of the airport into June in Saint Petersburg. I would be cold for the next 5 years.
We were welcomed outside the terminal by the kids' grandfather and his wife (my wife's step-mother), and several of my wife's friends. They popped corks from bottles of "Sovietskoye Shampanskoye" (Soviet Champagne) - a semi-sweet bubbly that's surprisingly palatable. It was served around in little cups that had held single servings of  yogurt. That's how things were back then. Western style consumer goods were still a very new thing. Free plastic cups with every purchase? WOW! Nobody was going to just toss them!
Agley!
To chronicle the next few weeks would be far too much for this medium. I suppose I should write a book sometime. The short version of the story is that we discovered that some  unscrupulous people, who shall remain nameless, figured (wrongly!) that my wife had emigrated for good, and they had bribed someone in the local housing administration (remember - everything was still state-owned), and taken over her flat. The red flag for the bureaucrat in charge was that the kids had been registered out, and not registered in anywhere else - something that simply could never happen with children in the former USSR system. So we had nowhere to live. We bunked with relatives and friends for a few weeks.
It eventually got straightened out, and in a way that was very good for us. But it took 2 years. We rented a small, shabby partly-furnished 1-bedroom flat in a typical Soviet housing block. The kids got the bedroom (I scrounged lumber and built bunk beds), and my wife and I slept on a fold-out sleeper sofa - a very common thing in the former USSR, and not unheard of these days.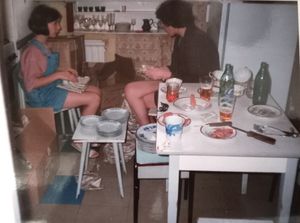 Unpacking dishes in the kitchen of our first flat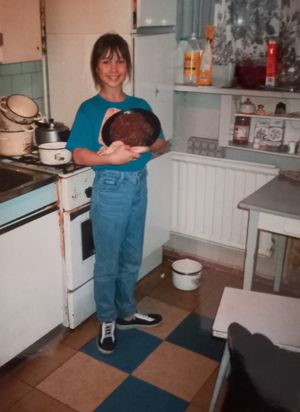 Proud young cook with her first meat loaf
It's just Life - with different scenery
How do you sum up 25 years of daily life in a blog post? That's mostly what it was - just daily family life. For me, my comfort zone was very far away in those first years. What kept me going was seeing my family happy, and doing well. The girls were getting better elementary education, which included foreign language studies. Those would eventually lead the elder kiddo to university in France (all the way to a Ph.D), and finally emigrating there. The Evil Socialism of that country's  higher education system cost us very little, and she graduated debt-free. The same lingering in Russia provided the same for her sister some years later.
Along the way I had some career opportunities that I could never even have conceived of in my native USA. I used to work in an office in the Russian Academy of Science building. Heading home in the evening, the view was across the Palace Bridge over the Neva River, to the Hermitage, across to the old Admiralty, and St. Isaac Cathedral. That was something else that kept me going. Every day I just just  incredulous that I was seeing such sights on my way home from work. To this day, I have yet to tire of the landmarks and sights of old Saint Petersburg.
Our living situation eventually sorted out, and we obtained (another long story), renovated, and eventually privatized a wreck of a Soviet communal flat, in a historic building on Vasilievsky Island, designed by the French architect Benoit. It was a prime location not far from the metro (subway) and the market. It was small by U.S. standards, but my wife and I together redesigned it into a comfortable and cozy family home. It was the first of several renovation projects we would do together, which have included designing and building a house north of the city, and renovating a smaller flat in a classic neighborhood of old Saint Petersburg when it came time to downsize. It has all been challenging - at times seeming impossible - but looking back, I wouldn't trade any of it for anything I can imagine.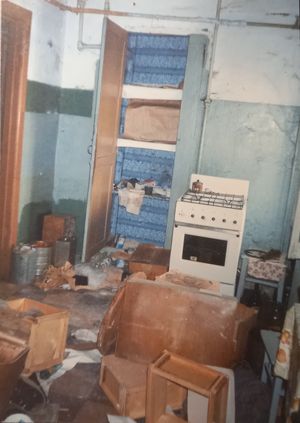 Vasilievsky Island flat BEFORE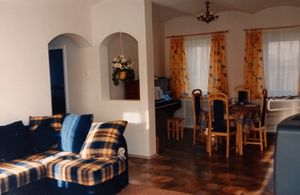 Vasilievsky Island flat AFTER
A few memorable highlights of my time here include: 
Summer vacations at a lakeside dacha in Karelia, meeting people who had heard of Americans, but never seen one. 
Helping to organize the first bluegrass music festival in Russia, and picking with Russian musicians who didn't speak English - which helped me get better with Russian in a comfortable way. I bless them for their tolerance!
Singing sea shanties with an international group that took us aboard most of the big Russian tall ships and into some out of the way places in Russia. 
Watching the local restaurant scene develop from none to a city that I think can stand with any European city for cuisine.
Facing worst nightmares that weren't really
There've been a few times where I faced my own nightmares. Like getting lost in the city before I had enough Russian to ask for help, and before mobile phones. Like being hospitalized in a foreign country where I don't speak the language well. Like immigration bureaucrats. Like traffic cops. All of these seemingly scary times were mitigated by ordinary Russian people:
The elderly lady who shepherded me to a corner where I knew where I was.  
The harassed bureaucrats  who had the power to make life miserable for me and my wife, who could have lived up to the reputation for corruption, but who simply did their jobs - dotting every "i" and crossing every "t" to be sure, but that's the job.
The traffic cops - with an immense reputation for corruption - who were, instead, gregarious and curious to see what a U.S license looked like, how long I was in Russia and how I liked it, and seemingly impressed that I had married a compatriot and settled here. 
Last but not least, the nurses, the interns, the medical technicians, and the doctors I've met with here. Their education, skills, and professionalism have been second to none.
Now the uncomfortable part
This is waxing long, as I knew it would. Before I wrap it up, I have to go over some uncomfortable stuff. As I write this, the official relations between my native country, and my adopted home country have deteriorated to historic lows. There is only one reason I can see for this: the so-called "leaders" on both sides. The political types, egged on by the financial interests they serve. The defective personalities with Ego Disease who, through at least 5000 years of history always manage to elevate themselves to Lordship over their neighbors. They've been working at keeping our two peoples afraid of each other my whole life and I'm rather sick of it.
But for them, there is no earthly reason why the people of the United States and Russia should be enemies. I have met far too many everyday sorts of people from varying walks of life to have any truck with that notion. We have far more in common with each other than either of us do with many other countries and cultures. Things don't have to be the way they are.
Ironically, the heads of state of the two countries are meeting on this day to see what, if anything, they can salvage from the wreck of relations they and others of their ilk have bilaterally made over the decades. Both seem too stuck in the past to give me much hope for any meaningful improvement. I can only hope that at some point a new generation with better sense will come on the scene and build something better out of the debris. Only time will tell. Meanwhile, I'm relegated to becoming an old man living with his memories of better times. I guess that comes to all of us if we live long enough.
I still think I'm better off
For my own part, there is no doubt in my mind that I am far better off today for having spent a quarter century in this historic and beautiful city, living among its people, than I would have been had our first best laid plans not gone "agley" in fine Robert Burns fashion. And here's a tip: if you every have a chance to visit Saint Petersburg, don't let the political news and officialdom scare you off. It's a marvelously beautiful city, with so many good people. You will be welcome.