Once again I and the venerable gents of the Men Overboard maritime folk trio will be heading to Harwich, Essex, England to perform my New Old Sea Songs (and a few oldies too) at the 2018 Harwich International Sea Shanty Festival. This year's festival takes place October 5-8. We'd love to see you at any of the scheduled Men Overboard shows: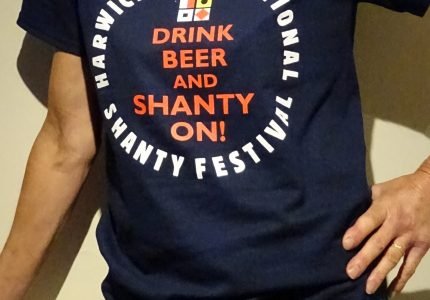 Friday (05 Oct.)
13:00  Ha'penny Pier 45-50 min.
16:00 Crown Post 2-3 songs, part of a multi-artist event

Saturday (06 Oct.)
11:15 Shanty Train - advance tickets required
14:30 Pier Hotel "Angel" Annexe  
21:00 Alma Inn  - 15/20 min. maybe more. Another multi-artist event.

Sunday (07 Oct.)
12:00 Hanover - 45-50 min.
14:30 Sailing Barge Victor - 90 min. cruise. Advance tickets required.
Lots of great musicians and fun activities and events at this festival. Among other things I'm looking forward to revisiting the local "chippy" for some local-catch fish and chips. It's a short walk uptown from the main pier area, but well worth it. No seating, but you can take your food into most of the nearby old town pubs if you buy a drink. With to-die-for English bitter on tap, of course you will!