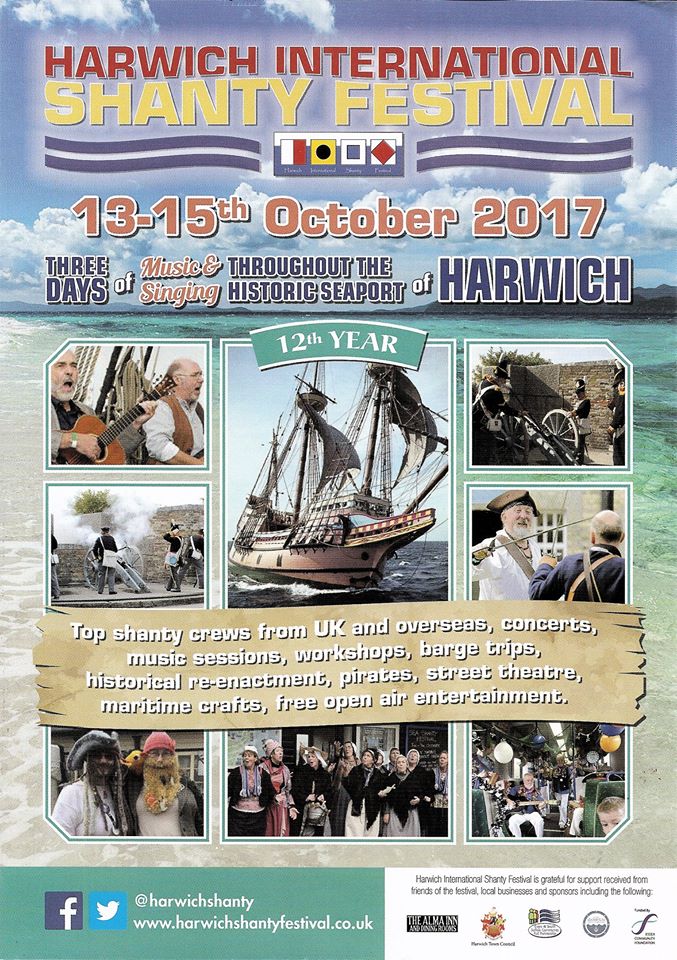 Word from the Harwich International Sea Shanty Festival organizers has come in giving the times and locations of my shows with the Men Overboard trio. If you're anywhere within reach, I hope you'll come and catch one of these events!
October 13 (Friday)
16:30 - New Bell Inn
October 14 (Saturday)
12:00 - Alma Inn
13:00 - Crown Post
16:00 - Harwich & Dovercourt Sailing Club
October 15 (Sunday)
11:00 - Ha'Penny Pier
13:00 - Samuel Pepys Wine Bar
Then at 15:15 in St. Nicholas Church will be the final concert for all visiting crews.
We get to do one song. What time we'll actually go on, I don't know, and maybe won't before the date. But really, you'd want to come for this entire show. It should be excellent.
I hope to enter Noah Could Not Navigate in the "Sing a Shanty" competition. Right now the festival site shows a time conflict with our 4 pm show on Saturday afternoon, but I hear via the grapevine that the competition has been rescheduled and that we should be able to make it. In any case we'll include Noah in at least some of our shows!
Online tickets  sales
Ticket sales for various festival events are on sale now: CLICK HERE
Our shows are not listed on the ticket sales site, so I assume advance tickets are not needed for them. Our venues are mostly pubs. I don't know if they will have some cover charge. I'm trying to find out, and I will update this if I learn definitely one way or the other.
P.S. - If you know how to manipulate a GoPro camera and will be and any of our shows, and you'd be willing to shoot some footage, please get in touch! There could be beer in it for you - hint hint.