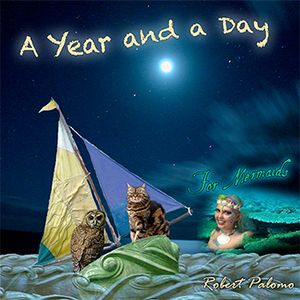 You may or may not remember from high school physics class that water is an amazing conductor of sound. So good, in fact, that sounds which are quite ordinary and unobtrusive on land can be highly disturbing, if not downright painful for sea creatures.
Such is quite definitely the case with Mermaids. Jangly things that we land creatures like for rhythms and sparkle can actually cross the pain threshold for them — bits such as tambourines, bells, triangles, cymbals and the like. I didn't know that when I made my recording of "A Year and a Day". It was chock-full of sparkly bits.
But then I met a Mermaid.
You need not believe it. But they're out there. They've hoodwinked our doctors into thinking they're land creatures with a neurological disorder, so they can hang out among us, observe, and report on our fitness to join Civilized Peoples. (We're not there yet.) They may fool the docs, but every good sailor and singer of sea songs — we knows one when we meets one, by gum!
Especially for Mermaids
Therefore, I have created a second version of the recording, minus the jangly jarring bits, for my Mermaid friend (she knows who she is) and any other merfolk out there. Partly in hopes of being reported as fit to join Civilized Peoples, but mainly because she's a good kid sailing a tough course.
I have put the track exclusively on Bandcamp. You can listen to it there, or right here:
---
Do you know?
It takes hundreds of plays on streaming services like Spotify to equal the income from just 1 digital download. Even if you prefer streaming, downloads are a great way to support an artist whose music you enjoy.
WAYS YOU CAN SUPPORT MY WORK
CD BABY * AMAZON * iTUNES * BANDCAMP
Don't want a download? No problem!
MORE ORIGINAL SEA SHANTIES & MARITIME FOLK MUSIC IN THE WORKS!
Be the first to hear it as a member of my "SCURVY CREW!"

---